Aunt Sara's BEST Oven Cleaner 128 Ounce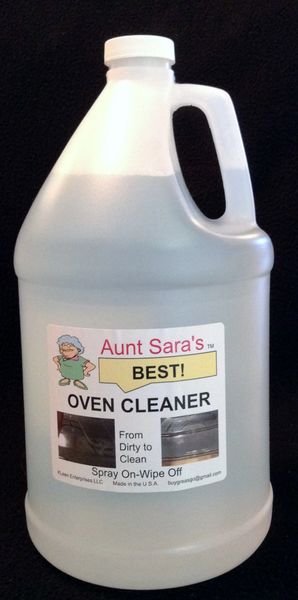 Aunt Sara's BEST Oven Cleaner 128 Ounce
HOME OFFICE RESTAURANT COMMERCIAL
Use on,
Cast Iron, Stainless Steel, Porcelain, Enamel, Chrome
FAST ACTING, NO HARSH FUMES, NO HARSH CHEMICALS, NON-FLAMMABLE, BIO-DEGRADABLE
Where to Use,
Self-Cleaning Ovens, Gas or Electric Ovens, Oven Glass Doors, Broilers, Broiler Pans, Range Hood Filters, Oven Racks, Stove Grates, Stove Drip Pans, BBQ Grills, Carbon on Pots & Pans.
How to Use,
EASY TO USE!
Spray on surface, let set a few, wipe off. Repeat, if necessary.
Maybe sprayed on cold or warm oven. Rinse with a clean damp cloth. Repeat to clean off all residue.
Reviews
Featured Products