POO & P Kleener 24 Ounce Pet Stain Remover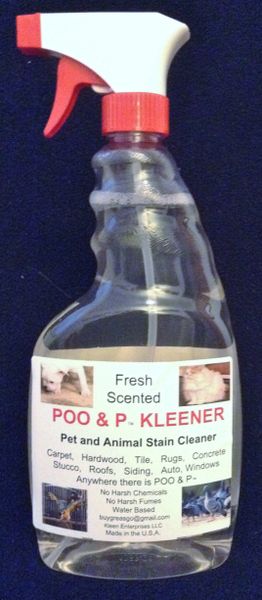 POO & P Kleener 24 Ounce Pet Stain Remover
Poo & P Kleener. A SAFE, WATER BASED, BIODEGRADABLE pet stain remover.

SO EASY TO USE!
Places to use,

Carpet, hardwood, Tile, Rugs, Concrete, Stucco, Roofs, Siding, Auto, Windows.
Dog Runs, Toys, Food and Water Bowels, Cages, Travel Kennels, Kennels.
Stainless Steel, Glass, Chrome, Wood, Ceramic, Plastic, Rubber, Painted Surface.
Takes out BLOOD, Vomit, Fur Ball, and other animal stains. Large animals as well.
POO & P, contains no toxic or hazardous chemicals. No harsh fumes, No carcinogens.
Will not dull paint or aluminum.
Spray on, let set, spray or wipe off.
Reviews
Featured Products