Professional FIRE HOUSE tm All purpose Cleaner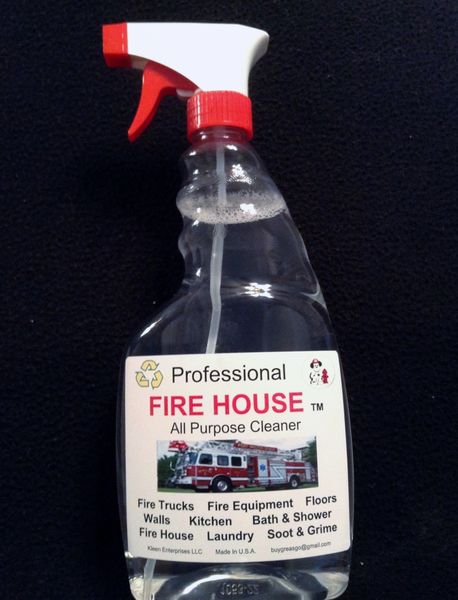 Professional FIRE HOUSE tm All purpose Cleaner
Professional
FIRE HOUSE
All Purpose Cleaner. Used by the pros.
AUTO:
Engines, Battery Corrosion, Bug & Tar, Upholstery & Carpet Stains, Blood, Oils, Grease, Brake Dust, Wheels, WW Tires, Tree Sap, Bearings.
HOME:
Counter Tops, Stainless Steel, Appliances, Ovens, Stove Tops, Wine, Coffee, Tea, Pet Stains. shoe Polish, Blood, Laundry, Bath & Shower, Tile Grout, Tile Floors, Wood Stove Glass, Soot & Carbon, BBQ Grills, Concrete Drive Ways.
FARM & RANCH:
Tractors, parts Washer Tanks, Chain Saws, Garden Equipment, Field Machinery, Power Equipment, Grain Bins, Water Tanks, Soot, Grime, Dirt. Trucks, Stock Trailers, Manure, Coats & Clothing, Boots & Boot Polish, Blood.
OTHER:
Motor Homes, Campers, Tents, Motorcycles, ATV, Boats & Marine, Hunting Equipment, Reloading Brass, Fishing Equipment, Office Equipment, Blood, Concrete, Bicycles, Yard Toys. AND A WHOLE LOT MORE!
Easy to Use, Spray On, Spray or Wipe Off. Fast Acting, No Shaking. No Mixing. Repeat as Needed.
No Harsh Chemicals, Fumes.
Made in U.S.A.
Reviews
Featured Products